The Baliem Valley Festival was my quick and dirty way to finally (figuratively at least…) put my toe in the water of this remote, eastern part West Papua province. Which is after all a troubled area of Indonesia and not the easiest place to get to!
But, having spent quite a lot of time scuba diving in Raja Ampat, on the western tip of the province, and traveled pretty extensively in Papua New Guinea. I was determined to get to the Baliem Valley as I was intrigued by what I had heard and wanted to see a bit more for myself. And the Baliem Valley Festival seemed a great way to do that!
My Baliem Valley Festival Experience…
Overall it was a pretty intense and immersive experience. One that took me from our home in Bali through Makassar (Ujung Pandang – UPG) in South Sulawesi to Jayapura, the capital of West Papua. Which meant an overnight stay in Jayapura to catch the flight to Wamena, the main town in the Baliem Valley, the next morning.
Travel within Indonesia is never without its challenges… The airlines have a rather dubious safety record plus delays and cancellations can be frequent. The Lonely Planet calls Indonesian travel Kafkaesque and at times I have to agree! But I made it to Wamena OK and was met upon arrival by the guide I had arranged. And off we went to the festival, which was being held about an hour outside of town.
For the rest of that day and all of the rest I wandered around the festival grounds, which was basically a large, flat field. The various tribes of the Baliem Valley, with the men fully made up for battle and the women in their traditional dress, competed against each other in various displays and mock battles. Very little of it made much sense to me at the time. But it was visually intriguing and very photogenic, which is kind of why I was there. Then as I started to write all this up for this post a lot of things dawned on me. And, as I researched those things, I learned a lot about the Baliem Vally and its tribes.
That said, I only really scratched the surface and am determined to go back again now that I know a bit more about what I don't know! In the meantime, let me share what I did learn about the Baliem Valley and illustrate it all with my images from the festival.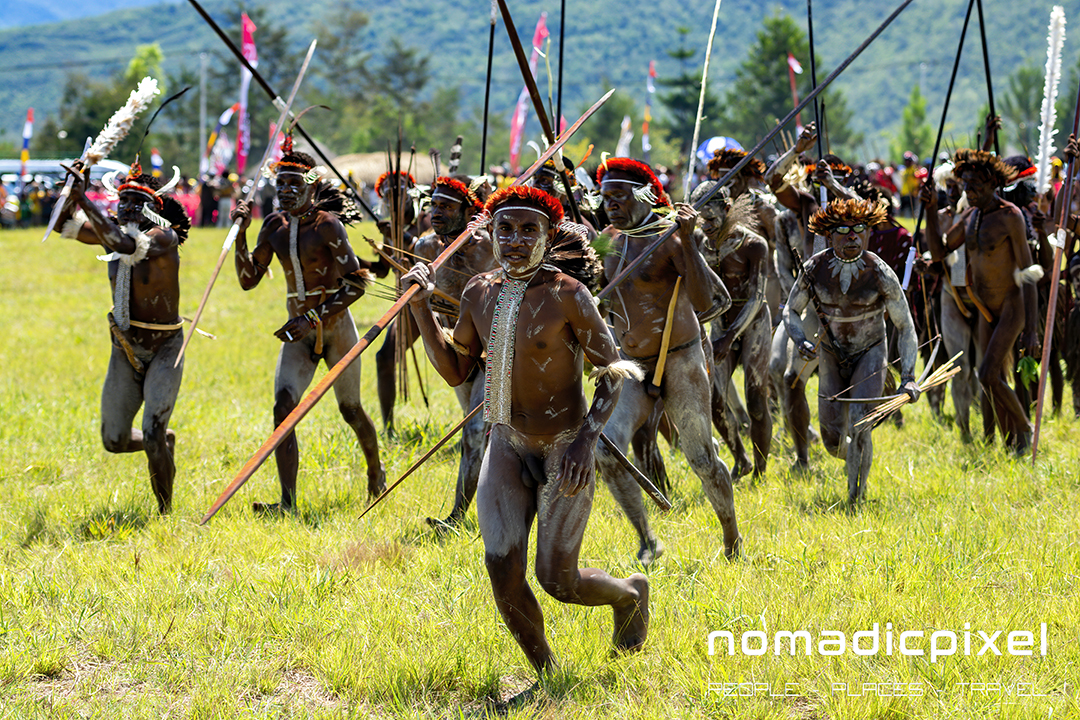 The Baliem Valley – Richard Archbold
The Baliem Valley is probably the best known tribal area of West Papua, if not all of Indonesia. It has a somewhat legendary reputation as a kind of "lost world". One that is inhabitated by what were considered as stone age tribes.
Much of that mystique comes from how the valley was first "discovered" in June 1938. When members of a zoological expedition flew over it in a Catalina flying boat (as you do…). Which all sounds a bit trite, until you peel the onion on the backstory – which really is quite incredible. The expedition was both sponsored and led by the American explorer and philanthropist
Richard Archbold
.
It was his third such expedition to New Guinea and by far the most ambitious. Taking place over 13 months from April 1938 to May 1939 and focused on
Netherlands (Dutch) New Guinea.
Which is the area we now know as West Papua in the western half of
New Guinea
. The second largest island in the world and part of what was the
Dutch East Indies
.
The mountainous, densely forested and incredibly difficult terrain of New Guinea created very significant challengies on Archbold's first expedition.
Re-supplying a large number of people in remote and isolated areas was really tough!
For the next expedition, Archbold purchased a
Fairchild Amphibian 91
seaplane. So that the expedition could be resupplied by landing in the lakes and rivers of the area. Plus carry out aerial reconnaissance and photography – an overall concept that was proven during that second expedition. Unfortunately the Amphibian was sunk while moored in Port Moresby during a severe storm!