The BMW Beast really was love at first site. I had long wanted a way to get to certain remote or distant places in Australia. Locations I had seen images of that filled me with both wonder and envy! But I did not want to go the "full monty" with a big 4WD and all the stuff that goes with it. Expensive and space consuming – space we don't have in Sydney with our small apartment in inner-city Redfern.
So when Phil Barnatt, a mate of mine in Canberra, sent me a photo of his latest acquisition a few years ago I requested first refusal whenever he decided to part company with it. Phil likes to give his bikes names and christened the BMW the "Beast". It's a very appropriate moniker!
The BMW Beast – What is It?
At its core is a 2003 BMW GS1150 motorcycle which had 58,000 km on the clock when I acquired it. Low mileage for what was then a 15 year-old bike. You will of course notice that on one side of the bike is a rather large appendage. The sidecar… and the reason the "rig" was christened the Beast. It's basically why I knew it was for me.
Motorcycles with sidecar are referred to as rigs by those who know about these things. The BMW Beast was designed and built in Victoria by a former Qantas airframe engineer who is apparently now Australia's sidecar guru. And he certainly did a great job overall. He also created a great conversation starter in the process. Everywhere I have been on the Beast, I inevitably get into discussions with strangers about the rig!
Why on Earth do you need THAT?
Fellow married men will instinctively know who asked that question. But, just in case you can't guess, it was my wife – who was completely unable to understand my motivation. As I patiently explained the GS1150 is a great bike, but it's the custom built sidecar that comes with it that makes the whole rig so necessary! I think of the BMW Beast as a platform that enables me to go almost anywhere in Australia. At a fraction of the cost of doing it in a 4WD!
I compounded the initial situation by acquiring the BMW Beast in mid 2018 when I was still working and traveling extensively. So it sat idle, but raring to go, in a rented garage for another two years. Did somebody say "I told you so"… Then the pandemic hit, which meant that nobody was going anywhere. But as restrictions started to lift in late 2020 there seemed no better time to see what this machine could do!
While initially unconvinced, the initial journeys I made on the BMW Beast as I prepared for the BIG ONE, did lead my wife to the conclusion that perhaps I had a point.
The BMW Beast – The GS1150
The GS1150 enjoys an incredible reputation as a modern classic and the machine that created a new genre – adventure motorcycling. Of course it helped that Ewan McGregor and Charley Boorman rode them on the Long Way Round. But the inherently excellent basic design and fundamental reliability was what really made the GS1150 so iconic.
Coming to BMW's at this point in life, after a couple of Harleys mixed in with a Vespa, and spread out over a few decades was somewhat of a revelation. Bayerische Motoren Werke make really good stuff, which when serviced and looked after as per their instructions, will look after you. Basically I am a complete convert – BMW makes great stuff!!!
I have done about 5,000 km on the BMW Beast now and the bike is incredible. It's strong, solid and just does what it was designed to do – incredibly well. The fact that it is doing it with a huge appendage on it's side, with all that enables, is amazing!
The BMW Beast – The Sidecar
The sidecar consists of a large aluminium box with three compartments that sits on top of a steel-tubing space frame. It's supported by the third wheel which is equiped with a most important disk brake. And, critically so, the sidecar wheel and the rear wheel of the GS1150 are both custom aluminium units that are interchangeable. Plus, there is a spare attached to the sidecar, where a passenger's left leg would go!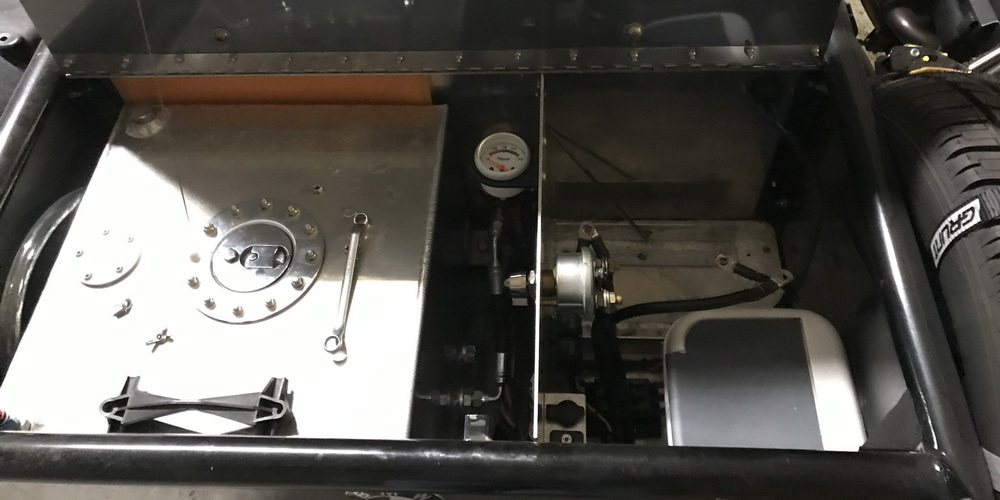 The rear compartment contains the 40l auxiliary fuel tank, additional high capacity 12v battery and the wiring that integrates it all with the GS1150.
The main fuel tank holds 22l, so with the additional 40l the Beast has about 13 gallons of fuel. At around 45mpg consumption it's possible to cover some 550km between fills.
It is possible to top up the main tank while riding, but I have never tried it… It's a simple process though and very reassuring to have that additional fuel easily available when traveling long distances.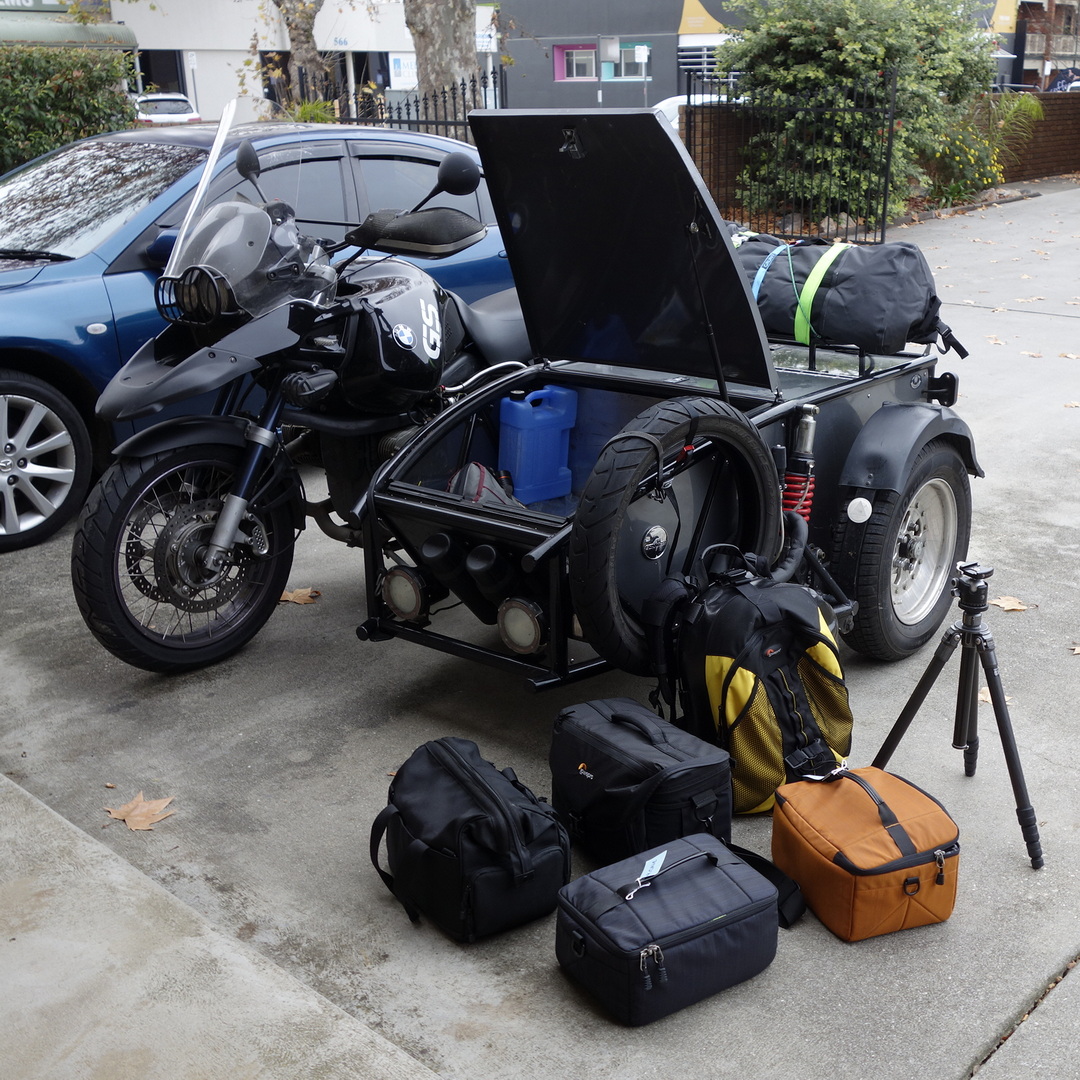 The front compartment provides relatively dust free and dry storage. Some care is required, but basically it has been excellent for storing all my camera gear on the trips I have done so far. The whole purpose of which has been photography.
As good and as highly functional are the front and rear compartments on the sidecar. It was the middle one that was the clincher when I first heard about the Beast from Phil!
It contains a 12v fridge, which Phil used principally for food when he did his trips as he camped most of the time. I don't camp and can't cook to save my life. But I can recognise an excellent cold storage capability when I see one!
The ability to have a cold beer, whenever and wherever, I want on my planned journeys seemed too good to be true…
Please don't take that wrong, I don't break any laws and believe strongly in always trying to do the right thing.
But a cold beer after photographing an amazing sunset in a remote location is incredibly enjoyable!
Riding the BMW Beast
Actually that's an oxymoron… As I have come to appreciate, you don't "ride" a sidecar rig like you would with a two-wheel mototorcycle.
There is very little leaning in to a corner. Instead you have to steer with the handlebars in the direction you want to turn.
On a left-hander you have to power on progressively and smoothly in mid corner. While on right-handers you have to back off on the throttle when you reach the apex.
Bear in mind that I had never, ever… ridden a sidecar till I picked up the Beast. So it was quite a steep learning curve, to say the least! A situation compounded by just how wide the Beast is – you cannot nip through gaps like you would on a bike!
Arriving in Sydney from Canberra that first time and navigating the afternoon rush hour traffic to Redfern took about 5 years off my life. But I survived and subsequent trips got easier. However it was my first longer trip down the south coast of NSW before I started to feel confident with it all.
The BMW Beast – The Big One!
The whole point of buying the Beast is to get to remote, iconic locations here in Australia and photograph them. And it does not get much more remote and iconic than Uluru! My wife and I spent a few days there several years ago for our anniversary. And I have long wanted to go back and capture the images I could not get on that trip – it really is an amazing place!
While riding all the way out to the Red Center of Australia is not the full-on adventure it once was, it's still not something to be taken lightly. The road is fully paved, but it's a 2840km journey each way, through some pretty intimidating territory. So rather than jump right in, I built up to it with the trips down the south coast.
Followed by a 10 day, 3500km round trip in to northern Victoria to photograph Lake Tyrrell at Sea Lake. Then up to Broken Hill and Silverton in outback NSW, which was a great shake-down for the Beast – which performed admirably all the way through.
So… I was all set and had everything organized for the big trip in July when the Delta variant of C-19 hit Sydney and we went in to hard lockdown. As I write this, we are now in the 14th week of that lockdown, but watch this space as I am going to do that trip!